Welcome to the SPECTANO 100 download area.
By downloading and installing the software from OMICRON Lab, you agree to the download terms and conditions as well as the End User License Agreement (EULA). Please read the respective documents before downloading and installing OMICRON Lab software.
If you do not agree with these agreements and conditions, do not download the software.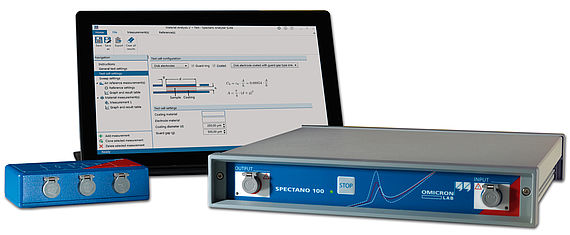 Note: Files created with the SPECTANO Analyzer Suite V1.5 cannot be imported to the SPECTANO 100 Analysis Template V1.0
Please use the latest Analysis Template V1.5.
SPECTANO 100 Analyzer Suite
Currently not available.
Operating systems:
Windows 7 SP1 or higher;
32-bit and 64-bit
CPU:
Intel Core-i Dual-Core (or similar)
RAM:
2 GB, 4 GB recommended
Interface:
USB 2.0 or higher
Automate your measurements
SPECTANO 100 can be controlled via an automation interface (API). Use .NET or COM compatible systems like:
Visual Basic
C#
MATLAB®
Excel® with VBA
C++
Python®
to solve your specific topics. An analysis of curing processes at single or multi frequencies, influences of different voltages can now easily be performed using the automated Continous Wave Recorder.
Find out more about the SPECTANO Automation Interface by having a look at the Automation Interface Reference.
The Automation Interface is included in the SPECTANO Analyzer Suite installer.
Automation Interface
The SAS V1.5 comes with an Automation Interface (API) that allows you to easily integrate the SPECTANO 100 into automated setups or customized software tools. You can access the SPECTANO 100 from MATLAB, LabVIEW, C# or Excel and more. Use the Automation Interface to create your specific software for any kind of research and measurement application. With the Automation Interface, you can combine the SPECTANO 100 with third party devices such as temperature sensors, pressure sensors or humidity sensors for environmental dependent measurements.
All functions and parameters that are available in the Spectano Analyzer Suite (SAS) are also available in the automation interface (AI). In addition, the AI offers a continuous wave recorder and a polarization current recorder for advanced analysis.
GUI Improvements and new Features
Additional DC method to analyze electrical insulation material according to IEC 62631-3-1

Specific conductivity σ(t)
Specific resistance ρ(t)
Electrical conductivity G(t)
Electrical resistance R(t)

Possibility to generate customized frequency test points
Improved chart display and zooming functions
The historic initial version of the SPECTANO Analyzer Suite.