9th Power Analysis & Design Symposium 2020
Take the chance to join us for a great day packed with lectures, practical examples and demonstrations by international power supply experts. On the evening prior the symposium you are invited to join our "Open Lab" after work measuring event.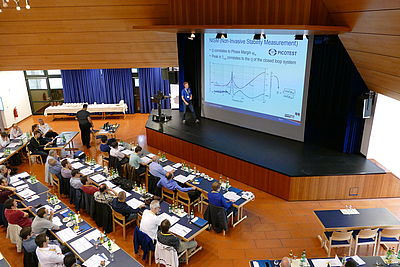 Topics will be published in the beginning of 2020

Open Lab: Wednesday, March 4th, 2020
Symposium: Thursday, March 5th, 2020
Venue:
Bürgerhaus Eching
Roßbergerstraße 6
85386 Eching (near Munich)
Germany
Scroll down to the "Related Information" section to have a look at the past symposium topics.
Travel & Hotel information
Arrival:
The journey time from the airport is approx. 20 minutes by car and approx. 15 minutes by S-Bahn.
From the central railway station, the journey time by S-Bahn is approx. 30 minutes. The S-Bahn station "Eching" is within walking distance from the Bürgerhaus Eching.
If you travel by car, you can find a parking garage approx. 100 meters away from the Seminar venue.
You can find a route map here or in the download area.
Accommodation proposals (within walking distance):
Hotel Angermeier Eching
www.hotel-angermeier-eching.de
Hotel Hoeckmayr
www.hotel-hoeckmayr.de
Echinger Hof
www.brauerei-echinger-hof.de
Hotel Huberwirt
www.huberwirt.de
Golden Tulip Hotel Olymp
www.goldentulipolymp.de
If you need help, please contact us: katharina.dunst@omicron-lab.com
Directions and parking information
(2 MB)
Download