OTMC 100 - Antenna-integrated PTP Grandmaster Clock
The OTMC 100p antenna-integrated PTP Grandmaster Clock provides you with a quick and easy solution to time synchronize intelligent electronic devices, computers and measurement equipment connected via Ethernet.
The OTMC 100p allows you to utilize the IEEE 1588 Precision Time Protocol (PTP) and the Network Time Protocol (NTPv4) in parallel. Due to the unique design of the OTMC 100p, you do not have to worry about antenna cable delay compensation anymore.

To download the OTMC 100p user manual and firmware, visit the download site.
For more information on the TICRO 100, please visit it's product site.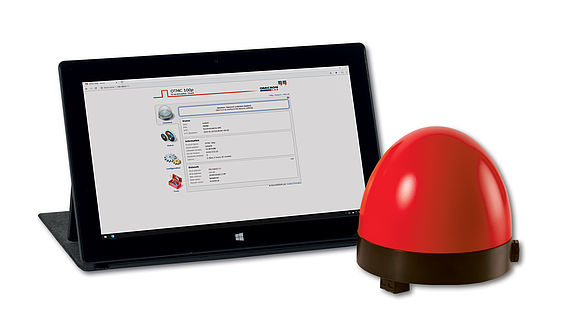 For more information, please check out the flyer below:
The Simplest Way to IEEE 1588 Precision Timing!
GPS Antenna, GPS Receiver and CPU combined in a compact, weatherproof outdoor unit Zero in-house footprint
No RF cabling required
Connection via one single Ethernet cable
Automatic cable length compensation
Up to 100 m cable length between nodes supported
Multi-protocol support
One solution for PTP and NTP timing networks
Extremely low power consumption
Low cost of ownership
Secure Web Interface
Easy setup & control
Computer platform independent
Powered over Ethernet
No additional power supply needed
Easy installation
The OTMC 100's unique design, which combines the GPS Antenna, the GPS Receiver and the Grandmaster Clock itself in one compact weatherproof housing, allows you to connect it directly to your network without the need of any coaxial RF cabling. Since all time reference functionalities are combined in the outdoor mounted device you do not need any additional in-house rack space in your server room.
Due to its active GPS Antenna and the super-sensitive 12-channel GPS receiver the OTMC series clocks provide you with reliable time synchronization data even under difficult reception conditions. The integrated PTP Grandmaster Clock runs a fully embedded PTP protocol stack - so all you need to do is to setup the clock via its computer-platform independent web interface and you are ready to synchronize all PTP capable devices in your network.
The OTMC 100 is powered over Ethernet (PoE) and due to its extremely low power consumption your cost of ownership is significantly lower than it would be for a standard rack mounted device.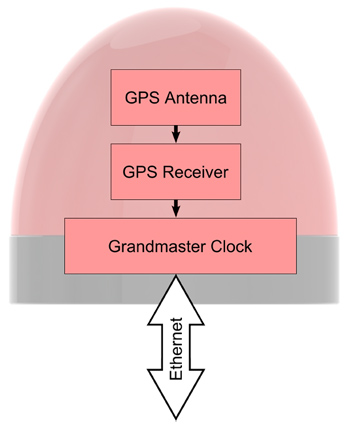 The OTMC 100 is equipped with an integrated web server which gives you access to all functions and settings via a web browser. The intuitive navigation concept allows you to access the OTMC 100 via all kinds of computers including TabletPCs with touchscreen control.
As soon as the OTMC 100 is connected to your network it either gains its IP address from your network's DHCP server or selects an Auto IP address. In a Windows® environment you can use the OMICRON Device Browser to easily locate and configure the network settings of the OTMC 100.
You can secure your OTMC 100 against unauthorized access by using the encrypted HTTPS protocol with your own safety certificate and password protection.
If you have to setup more than one OTMC 100 in your network you can easily store the configuration of your OTMC 100 into an XML file and deploy it to other OTMC 100s using the secure shell (SSH) technology.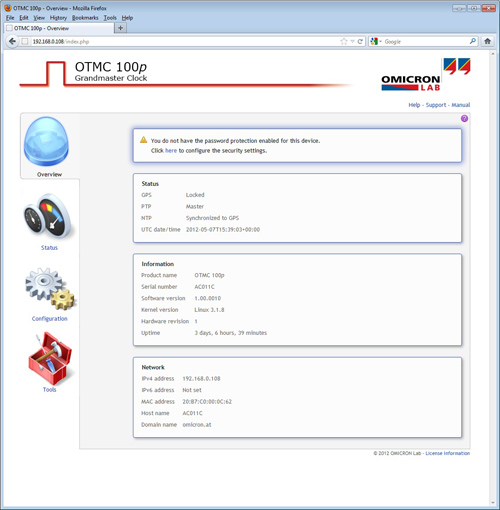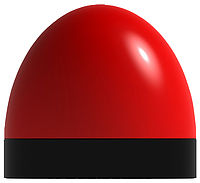 The OTMC 100p was especially designed for the use in the electric power industry. Besides the IEEE 1588 default profile the OTMC 100p fully supports the Power Profile according to IEEE C37.238-2011, IEEE C37.238-2017 and IEC/IEEE 61850-9-3:2016. It therefore allows you to securely operate the OTMC 100p in IEC 61850 network infrastructures. Further on you can trust in the interoperability with all PTP compliant IEDs in your power utility.